Tippy-Toe Chick, Go!
---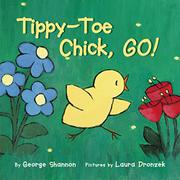 Hen and her chicks go to the garden every morning for their favorite treat, "sweet itty-bitty beans and potato bugs." But one morning a dog is blocking their way. Pragmatic Hen says they'll have to skip the garden that day, but the three chicks protest: "We're hungry! You PROMISED! We DID our chores!" Each chick tries to get the dog to let them by. Dog frightens Big Chick and Middle Chick away. It's tiny Little Chick, a curious, free-spirited soul, who has the brains and nerve to get the dog tied up in a tangle. George Shannon's delightfully told story is further enlivened by Laura Dronzek's wonderful acrylic illustrations that are funny and endearing. Her masterful use of space and design variations superbly complement the story. Honor Book, 2004 Charlotte Zolotow Award ©2004 Cooperative Children's Book Center
Illustrated by Laura Dronzek
CCBC Age Recommendation: Ages 2-5
Age Range: Babies/Toddlers (birth – 3) PreK-Early Elementary (Ages 4-7)
Format: Picture book
Subjects: Animals (Fiction) Courage Humor Problem-Solving

Publishers: Greenwillow, HarperCollins
Publish Year: 2003
Pages: 32
ISBN: 0060298235
CCBC Location: Picture Book, Shannon
Can't find what you're looking for? Our
Recommended Book Search
includes subject access to CCBC-recommended titles based on subject headings created by our staff.