Pouch!
---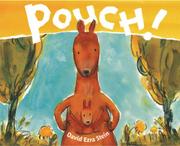 Young Joey is eager to venture outside his mama kangaroo's pouch for the first time. Two hops bring him to something unfamiliar, and Joey asks, "Who are you?" The yellow-and-black striped insect replies, "Bee." Joey cries, "Pouch!" as he leaps back to the safety of Mama. Reassured, he's soon ready to take three hops, when he's confronted by a rabbit. "Pouch!" cries Joey, again returning to Mama. Each progressive outing takes him one hop further from Mama, and each time Joey is able to seek the comfort of the pouch when he meets a new creature. The pattern continues until his five-hop trip brings him face to face with someone else who also yells "Pouch!"—another kangaroo. Repetition and perfect pacing make this story of safety and exploration well-suited to toddlers, who are making their own inaugural ventures beyond the familiar faces of home. Warm colors and rounded shapes reinforce a sense of security, as Joey makes his initial move toward independence. Honor Book, 2010 Charlotte Zolotow Award ©2009 Cooperative Children's Book Center
Illustrated by David Ezra Stein
CCBC Age Recommendation: Ages 2-4
Age Range: Babies/Toddlers (birth – 3) PreK-Early Elementary (Ages 4-7)
Format: Picture book
Subjects: Animals (Fiction) Independence/Self-Reliance Patterned text/Repetition

Publisher: Putnam
Publish Year: 2009
Pages: 32
ISBN: 9780399250514
CCBC Location: Picture Book, Stein
Can't find what you're looking for? Our
Recommended Book Search
includes subject access to CCBC-recommended titles based on subject headings created by our staff.