To print a CCBC booklist, click on a list below and then use your browser's "Print" command. You can also select books from one or more booklists to create a custom list, which can also include books from the CCBC-Recommended Book Search.
Hoot Owl, Master of Disguise
---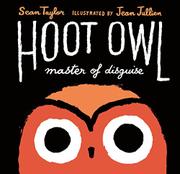 Unconventional Hoot Owl concocts one outrageous costume after another as he attempts to bag his evening meal. But just as his carrot disguise doesn't fool a rabbit, his ornamental birdbath get-up fails to result in a pigeon dinner. Undaunted, Hoot Owl moves from one lost opportunity to the next, finally nailing an inanimate pepperoni pizza while wearing the white jacket and toque of a waiter, complete with a mustache penciled below his beak. Despite his repeated failures, this bird of prey remains unfailingly confident ("I swoop through the bleak blackness like a wolf in the air") as he invokes his flamboyant descriptive powers ("The shadowy night stretches away forever, as black as burnt toast.") Bold black outlines and saturated, flat colors add dramatic flair to Hoot Owl's nighttime escapades, while his melodramatic prose extends the humor of his plight. After scarfing his pizza, Hoot Owl flies off "into the dark enormousness of the night. "And the world can sleep again." Honor Book, 2016 Charlotte Zolotow Award ©2015 Cooperative Children's Book Center
Illustrated by Jean Jullien
Format: Picture book
Subjects: Animals (Fiction) Food and Cooking Humor

Publisher: Candlewick
Publish Year: 2015
Pages: 48
ISBN: 9780763675783
CCBC Location: Picture Book, Taylor
Can't find what you're looking for? Our Recommended Book Search includes subject access to CCBC-recommended titles based on subject headings created by our staff.