Don't Let the Pigeon Drive the Bus!
---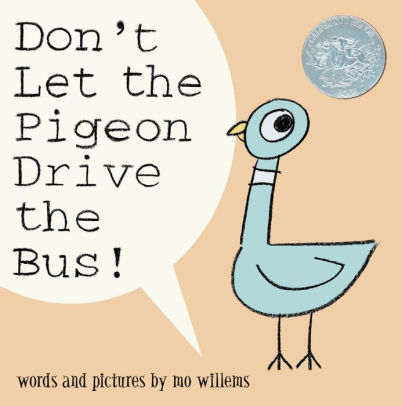 Pssst. Hey, take a look at this guy. He's a pigeon. You wouldn't let him drive a bus, would you? Even if he begged you, and promised he'd be careful, and insisted your mom would let him drive? With just a few bold black strokes set on neutral pastel-colored backgrounds, artist Mo Willems manages to create an extremely earnest pigeon who uses all of his powers of persuasion to try to convince us he'd actually be able to drive the big bus parked on the title page. Young readers will enjoy doing just as the title and bus driver asked them to do by saying "No!" to the pigeon with each turn of the page. Highly Commended, 2004 Charlotte Zolotow Award ©2004 Cooperative Children's Book Center
Illustrated by Mo Willems
CCBC Age Recommendation: Ages 2-6
Age Range: Babies/Toddlers (birth – 3) PreK-Early Elementary (Ages 4-7)
Format: Picture book
Subjects: Birds (Fiction) Humor Persuasion

Publisher: Hyperion
Publish Year: 2003
Pages: 32
ISBN: 078681988X
CCBC Location: Picture Book, Willems
Can't find what you're looking for? Our
Recommended Book Search
includes subject access to CCBC-recommended titles based on subject headings created by our staff.