Overboard!
---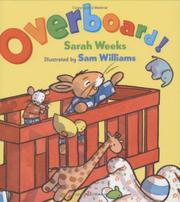 This rollicking picture book features one of the most beloved activities of older babies and toddlers: throwing, knocking, pushing or pulling things onto the floor. "Drippy, slippy-slidey peaches. Peachy peaches, nice and fat. Peaches going . . . overboard! Peaches, peaches, splat! splat! splat!" Author Sarah Weeks captures the delight in a lilting text about a young bunny who can't get enough the game. Crinkly raisins go over the edge of the stroller tray, rubber ducky soars out of the tub, and stuffed animals fly from the crib. The clean-up may be exhausting for adults to contemplate, but young children will just relish the fun. Bright, cheerful illustrations provide a lively accompaniment to this terrific read-aloud. Highly Commended, 2007 Charlotte Zolotow Award ©2006 Cooperative Children's Book Center
Illustrated by Sam Williams
CCBC Age Recommendation: Ages 1-3
Age Range: Babies/Toddlers (birth – 3)
Format: Picture book
Subjects: Animals (Fiction) Babies Patterned text/Repetition Stories in Rhyme Wordplay

Publisher: Harcourt
Publish Year: 2006
Pages: 32
ISBN: 0152050469
CCBC Location: Picture Book, Weeks
Can't find what you're looking for? Our
Recommended Book Search
includes subject access to CCBC-recommended titles based on subject headings created by our staff.