Gorilla! Gorilla!
---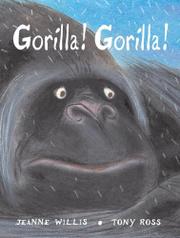 A mother mouse searching for her missing baby jumps to the wrong conclusion when a big gorilla starts to chase after her. "He'll squash me and scratch me! He'll squash me and catch me, He'll mince me and mash me, And crunch me up for lunch!" The gorilla pursues her from their home in the rainforest all the way to China, then across America, Australia, and the Arctic. "Stop!" he bellows each time she repeats her frightened refrain. When the tenacious gorilla finally catches up to the exhausted mother mouse, it turns out that he's only been trying to return her baby all along. Masters of surprise, writer Jeanne Willis and illustrator Tony Ross transform a seemingly scary tale into a sweet story of chivalry. Highly Commended, 2007 Charlotte Zolotow Award ©2007 Cooperative Children's Book Center
Illustrated by Tony Ross
CCBC Age Recommendation: Ages 4-8
Age Range: PreK-Early Elementary (Ages 4-7) Grades 3-5 (Ages 8-10)
Format: Picture book
Subjects: Animals (Fiction) Humor Patterned text/Repetition

Publisher: Atheneum
Publish Year: 2006
Pages: 24
ISBN: 1416914900
CCBC Location: Picture Book, Willis
Can't find what you're looking for? Our
Recommended Book Search
includes subject access to CCBC-recommended titles based on subject headings created by our staff.