Hooray for Hat!
---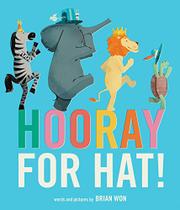 Waking up in a bad mood, Elephant stomps down the stairs when the doorbell rings. He calls through the door, "Go away! I'm grumpy!" But there's a present waiting outside and he can't stay grumpy when he discovers what's inside. "Hooray for hat!" Eager to show Zebra his fancy new headwear, Elephant finds his friend in a familiar state: "Go away! I'm grumpy!" Elephant takes the top hat off of the multi-hat, tiered creation he'd been given and offers it to Zebra. "Hooray for Hat!" Grumpy Turtle and grumpy Owl are likewise gifted and their moods transformed. Lion, however, is not so easily cheered. He's concerned about their friend Giraffe, who isn't feeling well. With all the hats from the original creation now shared among the friends, there's only one answer. When Giraffe is given the original stacked-hat creation, the real gift is obvious. "Hooray for friends!" A deceptively simple narrative makes terrific use of repetition to build anticipation and invite participation in a picture book that also has great visual appeal and humor. Highly Commended, 2015 Charlotte Zolotow Award ©2014 Cooperative Children's Book Center
Illustrated by Brian Won
CCBC Age Recommendation: Ages 2-5
Age Range: Babies/Toddlers (birth – 3) PreK-Early Elementary (Ages 4-7)
Format: Picture book
Subjects: Animals (Fiction) Feelings/Emotions Friendship Kindness Patterned text/Repetition

Publisher: Houghton Mifflin Harcourt
Publish Year: 2014
Pages: 32
ISBN: 9780544159037
CCBC Location: Picture Book, Won
Can't find what you're looking for? Our
Recommended Book Search
includes subject access to CCBC-recommended titles based on subject headings created by our staff.