To print a CCBC booklist, click on a list below and then use your browser's "Print" command. You can also select books from one or more booklists to create a custom list, which can also include books from the CCBC-Recommended Book Search.
It's a Book
---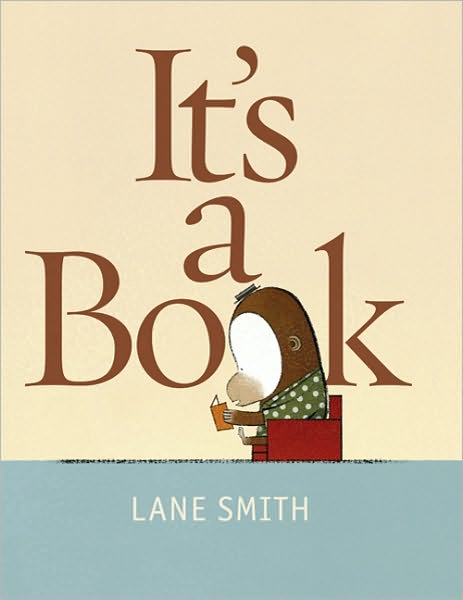 Smith's cartoon illustrations show Jackass and Monkey sitting in armchairs across from each other, Jackass with his laptop and Monkey with his book. In a text told in dialogue, Jackass, who has never seen a book before, peppers Monkey with question after question about what it does ("Can it text? Tweet? Wi-Fi?") and how it works ("Does it need a password? Need a screen name?"). Exasperated, Monkey finally resorts to reading a passage of Treasure Island aloud. Jackass gets drawn into the story and asks to read it, promising to re-charge it when he's finished. Monkey's parting words ("It's a book, Jackass.") have raised some adult eyebrows, but it is the character's name, and the author has made it pretty clear from the beginning that he doesn't think much of the story's antagonist. © Cooperative Children's Book Center
Illustrated by Lane Smith
CCBC Age Recommendation: Age 7 and older
Age Range: PreK-Early Elementary (Ages 4-7) Grades 3-5 (Ages 8-10) Grades 6-8 (Ages 11-13) Grades 9-12 (Age 14 and older)
Format: Picture book
Subjects: Books and Reading Humor Technology and Engineering

Publisher: Roaring Brook
Publish Year: 2010
Pages: 32
ISBN: 9781596436060
CCBC Location: Picture Book, Smith
Can't find what you're looking for? Our Recommended Book Search includes subject access to CCBC-recommended titles based on subject headings created by our staff.