To print a CCBC booklist, click on a list below and then use your browser's "Print" command. You can also select books from one or more booklists to create a custom list, which can also include books from the CCBC-Recommended Book Search.
Whatever
---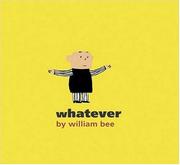 "Billy can be very difficult to please. Show him something very tall … and he'll say ' . . . whatever.' Show him something very small … and he'll say 'whatever.' " The curliest trumpet, the bounciest castle – none of the wonders his father points out draw a reaction from the determinedly unimpressed Billy. Even the world's hungriest tiger only merits a "whatever" -- until the tiger gobbles Billy up. Children will relish the satisfying conclusion, as Billy's fed-up father retaliates with his own jaded response (you guessed it – "whatever") to his son's predicament. William Bee owes a huge debt to Maurice Sendak's Pierre (Harper & Row, 1962), but his cleverly composed digital illustrations and perfect pacing merit the attention of a new generation of children. Substituting the fresh flavor of "whatever" for Pierre's "I don't care" gives the timeless story about the price of rudeness an up-to-the-minute sensibility. Highly Commended, 2006 Charlotte Zolotow Award © Cooperative Children's Book Center
Illustrated by William Bee
CCBC Age Recommendation: Ages 4-8
Age Range: PreK-Early Elementary (Ages 4-7) Grades 3-5 (Ages 8-10)
Format: Picture book
Subjects: Fathers Humor Patterned text/Repetition Surprise Endings

Publisher: Candlewick
Publish Year: 2005
Pages: 32
ISBN: 0763628867
CCBC Location: Picture Book, Bee
Can't find what you're looking for? Our Recommended Book Search includes subject access to CCBC-recommended titles based on subject headings created by our staff.