Come Back, Hannah!
---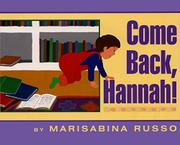 While her mother tries to get a few things done, little Hannah keeps crawling away to explore the things she sees and hears around her house. Hannah dumps books off the shelf, plays with the pots and pans, and follows the jingle jangle of the dog's collar. "Come back, Hannah" calls her mother over and over. Young listeners won't be able to resist joining that refrain in this finely paced, wholly child-centered story about a baby's various encounters with her world. Russo used gouache for the vibrant illustrations. Highly Commended, 2002 Charlotte Zolotow Award ©2002 Cooperative Children's Book Center
Illustrated by Marisabina Russo
CCBC Age Recommendation: Ages 2-5
Age Range: Babies/Toddlers (birth – 3) PreK-Early Elementary (Ages 4-7)
Format: Picture book
Subjects: Babies Mothers

Publishers: Greenwillow, HarperCollins
Publish Year: 2001
Pages: 32
ISBN: 0688173837
CCBC Location: Picture Book, Russo
Can't find what you're looking for? Our
Recommended Book Search
includes subject access to CCBC-recommended titles based on subject headings created by our staff.