No Haircut Today!
---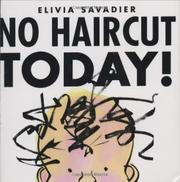 Dominic has remarkable hair. It's simultaneously long and short, curly and straight. Most significant, though, is the fact that Dominic's hair is not about to get cut anytime soon. Like many children, Dominic is terrified of having his hair cut – in fact, "when Dominic sees scissors he screams!" Ironically, his mother is a hair stylist who would love the chance to work on her son's locks. Despite offers of sitting in the special car or airplane chairs, despite her gentlest touch, Dominic is not about to let go of his hair-cutting phobia. Understandably frustrated, his Mom is still able to reassure her child that she loves him as they agree to postpone his haircut to another day. Dominic's humorous story will both entertain and comfort children who suffer from an irrational fear; in spite of their foibles, they'll always be loved. The brief text makes clever use of changing fonts, while the illustrations utilize heavy black lines to capture the unique nature of Dominic's head of hair. Highly Commended, 2006 Charlotte Zolotow Award ©2006 Cooperative Children's Book Center
Illustrated by Elivia Savadier
CCBC Age Recommendation: Ages 2-5
Age Range: Babies/Toddlers (birth – 3) PreK-Early Elementary (Ages 4-7)
Format: Picture book
Subject: Fear

Publishers: Neal Porter Books, Roaring Brook
Publish Year: 2005
Pages: 32
ISBN: 059643046X
CCBC Location: Picture Book, Savadier
Can't find what you're looking for? Our
Recommended Book Search
includes subject access to CCBC-recommended titles based on subject headings created by our staff.