It Feels Good to Be Yourself: A Book About Gender Identity
---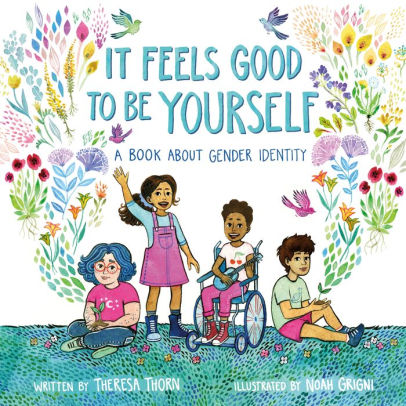 An expansive, affirming look at gender identity explores identities across the spectrum as it introduces various children. Ruthie is a transgender girl; her brother Xavier, a cisgender boy; Alex is both a boy and a girl; and JJ is neither. Straightforward language explains that when a child is born, people can only guess what their gender is based on how their body looks. Sometimes they are correct, and sometimes they're not—either way, it's okay to tell people your gender, and to be proud of who you are. There are many different ways to be a boy, a girl, or non-binary. There may be a word for your gender identity, but there may not be. Your identity may change or stay the same over time, or you might still be figuring it out. But most importantly, "you are okay exactly the way you are." A list of helpful terms and their definitions, additional resources, and an explanation of pronouns round out a book that embraces children of all genders, no matter where they are on their journeys.
Illustrated by Noah Grigni
CCBC Age Recommendation: Ages 3-9
Age Range: Babies/Toddlers (birth – 3) PreK-Early Elementary (Ages 4-7) Grades 3-5 (Ages 8-10)
Format: Picture book
Subjects: Affirmation Gender Identity Transgender People
Diversity subjects: Multicultural General Gender Nonconformity LGBTQ Character/Topic
Publishers: Henry Holt, Macmillan
Publish Year: 2019
Pages: 32
ISBN: 9781250302953
CCBC Location: Non-Fiction, 305 Thorn
Can't find what you're looking for? Our
Recommended Book Search
includes subject access to CCBC-recommended titles based on subject headings created by our staff.