To print a CCBC booklist, click on a list below and then use your browser's "Print" command. You can also select books from one or more booklists to create a custom list, which can also include books from the CCBC-Recommended Book Search.
Pokko and the Drum
---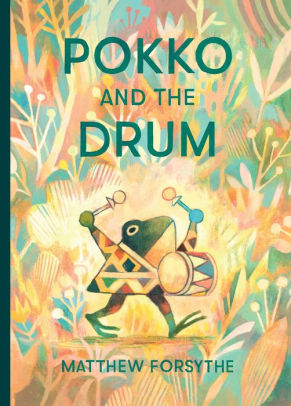 "The biggest mistake Pokko's parents ever made was giving her a drum." The noise Pokko, a frog, makes with her drum is too much for Pokko's parents, who send her outside. There, tapping on her drum, she's quickly joined by a raccoon with a banjo, a rabbit with a trumpet, and a wolf, who just likes marching along behind. When the wolf eats the rabbit, Pokko is having none of it: "No more eating band members or you're out of the band." The wolf's apology is genuine, and the band plays on; a raucous, ever-growing gathering as other animals join them marching through the woods. Even Pokko's parents get swept up—literally—in the exuberance of it all. The watercolor, gouache, and colored pencil illustrations are rife with possibilities for inference, while their appearance—a cozy, warm palette and a bit of a stylistic edge—are as distinct as the rest of this hilarious, masterfully paced story. Honor Book, 2020 Charlotte Zolotow Award ©2020 Cooperative Children's Book Center
Illustrated by Matthew Forsythe
CCBC Age Recommendation: Ages 4-8
Age Range: Grades 3-5 (Ages 8-10)
Format: Picture book
Subjects: Animals (Fiction) Humor Music and Musicians

Publishers: Paula Wiseman Books, Simon & Schuster
Publish Year: 2019
Pages: 56
ISBN: 9781481480390
CCBC Location: Picture Book, Forsythe
Can't find what you're looking for? Our Recommended Book Search includes subject access to CCBC-recommended titles based on subject headings created by our staff.