To print a CCBC booklist, click on a list below and then use your browser's "Print" command. You can also select books from one or more booklists to create a custom list, which can also include books from the CCBC-Recommended Book Search.
A Map Into the World
---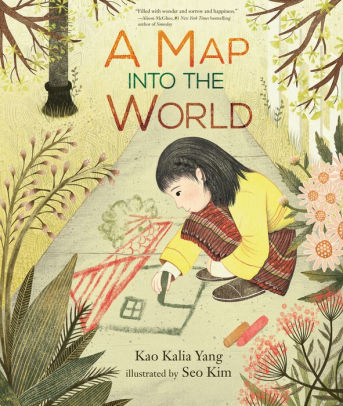 A quiet, contemplative story in which a Hmong American girl's year of simple, joyful discoveries culminates with a gift for her grieving neighbor. Paj Ntaub and her family have just moved into a new house with a garden and a swing. Across the street are elderly white neighbors Bob and Ruth, who often sit on a bench in their driveway. The family's first year in their new home is a busy one. Paj Ntaub has brand-new twin brothers, and she wants to show them everything: the pretty leaf that she finds in autumn, the snowball that she brings inside in the winter, the worm (named Annette) that she plucks off the sidewalk in spring. From her window, she watches as family arrives to comfort Bob when Ruth passes away. When it's warm enough, she and her mother venture across the street to visit with Bob, who is sitting alone on his bench. With sidewalk chalk, Paj Ntaub draws an elaborate "map into the world" on his driveway. The route wends its way past her garden, Annette smiling on the sidewalk, and her own home before ending at the street, where the world awaits Bob when he is ready for it. Honor Book, 2020 Charlotte Zolotow Award ©2020 Cooperative Children's Book Center
Illustrated by Seo Kim
CCBC Age Recommendation: Ages 5-9
Age Range: PreK-Early Elementary (Ages 4-7) Grades 3-5 (Ages 8-10)
Format: Picture book
Subjects: Death and Dying Families Friendship Grief and Loss Hmong People Older Adults Seasons
Diversity subject: Asian
Publishers: Carolrhoda, Lerner
Publish Year: 2019
ISBN: 9781541538368
CCBC Location: Picture Book, Yang
Can't find what you're looking for? Our Recommended Book Search includes subject access to CCBC-recommended titles based on subject headings created by our staff.