Sam!
---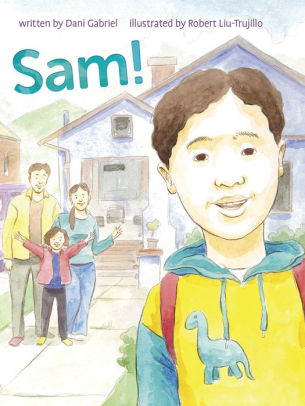 Nine-year-old Sam and his older sister, Maggie, don't always get along. Maggie can be bossy and irritating. But when Sam is crying after school one day, Maggie is quick to comfort him. "Isabel, what's wrong?" Kids at school were talking about the differences between boys and girls, and Sam worries that he was "born wrong." Everyone—including Maggie—thinks that Sam is a girl. That night, Sam confides in Maggie, telling her that he's always been a boy, and his name isn't Isabel. It's Sam. With Maggie's support, Sam comes out to his parents, who are supportive while acknowledging that the family will "have a lot to learn, together." Sam's feelings are appropriately centered in this intentional but loving coming-out story in which readers refreshingly meet brown-skinned Sam as Sam before learning that he is transgender. ©2020 Cooperative Children's Book Center
Illustrated by Robert Liu-Trujillo
CCBC Age Recommendation: Ages 5-7
Age Range: PreK-Early Elementary (Ages 4-7) Grades 3-5 (Ages 8-10)
Format: Picture book
Subjects: Families LGBTQ+ Persons Siblings Transgender People
Diversity subject: Brown Skin Unspecified LGBTQ Character/Topic
Publisher: Penny Candy
Publish Year: 2019
Pages: 52
ISBN: 9780999658437
CCBC Location: Picture Book, Gabriel
Can't find what you're looking for? Our
Recommended Book Search
includes subject access to CCBC-recommended titles based on subject headings created by our staff.