To print a CCBC booklist, click on a list below and then use your browser's "Print" command. You can also select books from one or more booklists to create a custom list, which can also include books from the CCBC-Recommended Book Search.
Look Up!
---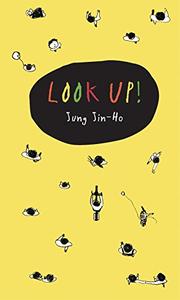 First published in Korea, this original picture book is drawn from the perspective of a little girl in a wheelchair who lives in a top floor apartment of a high-rise building. Looking out over her balcony at the people far below, she keeps shouting, "Look up!" All she—and readers—see are the tops of heads as people rush by on her busy street. Finally, a little boy hears her and stops to look up. He then lies on the ground so she can see all of him. This attracts attention and others begin to lie on the sidewalk, too. In the end the little girl goes downstairs to join her new friend. The sketchy black-and-white line drawings require readers to interpret the action that's going on down on the street far below by seeing the world solely through the protagonist's eyes. ©2016 Cooperative Children's Book Center
Illustrated by Jung Jin-Ho
Translated by Mi Hyun Kim. Translated from Korean; originally published in Korea
CCBC Age Recommendation: Ages 4-8
Age Range: PreK-Early Elementary (Ages 4-7) Grades 3-5 (Ages 8-10)
Format: Picture book
Subjects: Community Empathy and Compassion Friendship Perspective/Point of View
Diversity subject: Asian Physical
Publisher: Holiday House
Publish Year: 2016
Pages: 32
ISBN: 9780823436521
CCBC Location: Picture Book, Jung
Can't find what you're looking for? Our Recommended Book Search includes subject access to CCBC-recommended titles based on subject headings created by our staff.