To print a CCBC booklist, click on a list below and then use your browser's "Print" command. You can also select books from one or more booklists to create a custom list, which can also include books from the CCBC-Recommended Book Search.
Hector: A Boy, a Protest, and the Photograph that Changed Apartheid
---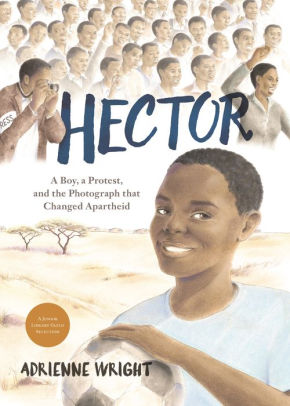 A short, potent, three-part graphic novel begins with "Hector," introducing a 12-year-old Black South African Hector Zolile Pieterson, living in Soweto in 1976. Hector likes playing soccer with friends and often runs errands for his mother. The morning of June 16 he heads to school and gets caught between demonstrating Black high school students and the white police. His older sister, alarmed to see Hector, yells for him to go home. "Bang!" "Antoinette" begins with Hector's older sister, Antoinette Sithole, that morning. She knows about the planned demonstration to protest government changes to their curriculum that would require more classes be taught in Afrikaans and fewer in their native languages, but doesn't expect to see Hector there. "Bang! … My brother!" "Sam" introduces Sam Nzima, a Black photographer covering the demonstration. The police confiscate Sam's film, but one roll remains successfully hidden. On it is a photo of grief and horror, reproduced here in agonizing clarity: Hector's body cradled in the arms of a teenage boy as Antoinette runs alongside. An afterward from the white South African author, who interviewed Hector's family and Nzima for this account, notes that Hector was not the only one to die during the historic protest on June 16, 1976, but Sam's photo became "a powerful symbol, opening the world's eyes to the racism and violence of apartheid and provoking change in South Africa." ©2020 Cooperative Children's Book Center
Illustrated by Adrienne Wright
CCBC Age Recommendation: Age 11 and older
Age Range: Grades 6-8 (Ages 11-13) Grades 9-12 (Age 14 and older)
Format: Graphic Novel
Subjects: 20th Century Activism and Resistance Death and Dying Education History (Nonfiction) Journalism and Media Racism South Africans World History
Diversity subject: Black/African
Publisher: Page Street Kids
Publish Year: 2019
Pages: 48
ISBN: 9781624146916
CCBC Location: Non-Fiction, 741.5 Wright
Can't find what you're looking for? Our Recommended Book Search includes subject access to CCBC-recommended titles based on subject headings created by our staff.