Can You See Me?
---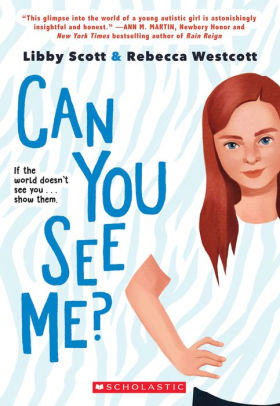 Tally is anxious about starting middle school. Her best friend Layla will be there, but she's still afraid of getting lost or overwhelmed, and worries about not knowing the rules, social and otherwise. Layla is the only person who knows that Tally, who is white, is autistic (a term Tally uses). Tally works hard to fit in at school; it's exhausting, and made more challenging by Luke, a classmate who gives her an especially hard time. At home, Tally's supportive parents are sometimes exasperated by her behavior, as is her older sister, Nell, who often gets fed up. A story told in third person is punctuated by first-person diary entries in Tally's voice written by coauthor Libby Scott, a 12-year-old with autism. The result is a novel offering incredible insight into Tally's particular experience and outlook. Tally is smart, funny, observant, and sensitive. She knows what she needs from others and longs to be seen as a person rather than her diagnosis, which includes "pathological demand avoidance," a condition that makes it nearly impossible for her to perform any task that has been directly demanded of her. Tally also has frequent meltdowns, which, unlike tantrums, she explains, she can't control. And she experiences anxiety —a lot. Sometimes, wearing her special tiger mask helps; in fact, Tally thinks Tiger Girl is braver than regular Tally. But of course they are one and the same, something Tally is learning to embrace. ©2021 Cooperative Children's Book Center
CCBC Age Recommendation: Ages 9-12
Age Range: Grades 3-5 (Ages 8-10) Grades 6-8 (Ages 11-13)
Format: Novel
Subjects: Affirmation Anxiety Autism Spectrum Behavior Families Friendship School
Diversity subjects: Cognitive/Neurological Physical
Publisher: Scholastic Press
Publish Year: 2020
Pages: 362
ISBN: 9781338608915
CCBC Location: Fiction, Scott
Can't find what you're looking for? Our
Recommended Book Search
includes subject access to CCBC-recommended titles based on subject headings created by our staff.