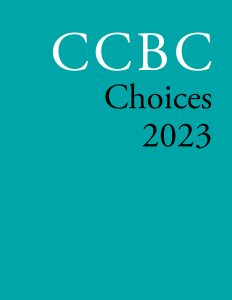 by Merri V. Lindgren, Megan Schliesman, Tessa Michaelson Schmidt and Madeline Tyner
© 2023 Cooperative Children's Book Center
(This essay originally appeared in CCBC Choices 2023.)
With the debut of this professionally designed digital edition, we are pleased to continue the evolution of the CCBC Choices publication.
CCBC Choices began in 1981 as a seven-page, stapled handout highlighting just over 100 books published the previous year, each described in one- to two-sentence annotations. A few years later, Choices had added appealing design elements and longer annotations, along with age recommendations, although it was still produced in-house. The first professionally designed edition was CCBC Choices 1986; by then a name/title index had been added. In 1995, a new design, with a cover by Lois Ehlert and inclusion of subject headings in the index, debuted.
With CCBC Choices 2023, we are pleased to include cover images for each book and to link each book to its entry in the CCBC-Recommended Book Search database, which provides access to subject headings, custom-list creation, and much more.
Even as the look of Choices, and publication bells and whistles, have changed across the years, some things remain constant. Choices is and always has been created by the professional staff of the Cooperative Children's Book Center as a way to draw attention to what we consider to be the best books among the hundreds we read throughout the year. It's a list of books that we are confident will engage, entertain, enlighten, and extend readers' understanding of themselves and the world. Whether a single book does one of these things or all of these things is something that will inevitably vary from one child or teen to the next. And while we don't read to include books on specific subjects or topics, books in Choices connect to many subjects, topics, and themes.
Across the list as a whole, we have included, as always, books for children from birth through high school-age and books that reflect diverse identities and experiences, something the CCBC sought to call out from the early days of Choices. We are pleased to see a far greater number of diverse books and a far wider range of diversity, including complex intersectional identities, reflected in books for children and teens than in decades past. This is thanks to years of work among Black, Indigenous, and People of Color and others, including advocates focusing on representation of LGBTQIA+ experiences, disability, and religious identities. Their work, and continuing conversations, help us think more critically.
As we read books published in 2022 throughout the year, we were especially struck by the diversity of middle grade and young adult fiction and are thrilled to have so many outstanding titles in CCBC Choices grounded in the specifics of identity and culture while telling stories that have broad appeal. These range from contemporary realistic fiction (Jennifer Chan Is Not Alone, Just Right Jillian) to historical (The Door of No Return, The Most Dazzling Girl in Berlin) to fantasy (The Last Mapmaker, Rust in the Root) to speculative dystopian fiction (The Getaway, The Q).
We are also happy to highlight so many novels featuring Latine protagonists (Shine On, Luz Veliz!; The Lesbiana's Guide to Catholic School; Breathe and Count Back from Ten; and more), as well as a number of novels with main characters who are Jewish (Aviva vs. the Dybbuk, Honey and Me, and See You Yesterday, among others). And as always, we are excited to discover new authors as we read for Choices. Among those newcomers whose books we recommend are Shawn Amos (Cookies & Milk), Andrea Beatriz Arango (Iveliz Explains It All), Isaac Blum (The Life and Crimes of Hoodie Rosen), Andrea Rogers (Man Made Monsters), Laura Gao (Messy Roots), Lewis Hancox (Welcome to St. Hell), the collaboration between Sara Alfageeh and Nadia Shammas (Squire), and others.
Publishing for children and teens continues to reflect—and respond to—current events and issues. The prevalence and danger of disinformation is tackled in two informative works of nonfiction, Killer Underwear Invasion! and What the Fact? Climate change is addressed directly and indirectly across titles such as Saving Earth, Where Have All the Birds Gone, and Polar Bear. And the impact of a pandemic on individual lives is seen across several books, including Ain't Burned All the Bright; I Miss You, I Hate This; and The Q.
Finally, it's impossible to think about children's and young adult literature today without also thinking about ongoing efforts to censor children's and teens' access to books, especially books addressing racism and representing and affirming LGBTQIA+ lives and experiences. And so it is with both appreciation and relief that we continue to see ever-more-nuanced examples of queer visibility in book publishing for youth (e.g., The Lesbiana's Guide to Catholic School, The Summer of Bitter and Sweet, When the Angels Left the Old Country), and new books that take honest and unflinching looks at the realities of racism in our present and in our past (Choosing Brave, Unequal, The Silence That Binds Us, and others).
There are always books we miss for inclusion in Choices; often these are books we received too late to consider for Choices, or didn't receive at all.  But we are excited about the 212 books we've chosen.
We never doubt that books can—and do—make a difference, especially in the lives of children and teens. As the work of creating CCBC Choices 2023 winds down, we are already looking ahead. We'll continue to share our enthusiasm for the 212 books in this edition of Choices in presentations here at the CCBC and around Wisconsin—something that began months ago. We'll also begin to read books published in 2023, which will eventually lead to the creation of CCBC Choices 2024.
All of it is work made possible by the creativity of authors and artists and the commitment of editors, agents, marketing reps, and others in publishing. It is work made meaningful by the dedication of librarians, teachers, and others who strive to make sure children and teens have access to outstanding books that reflect their lives and the world in which they live. And it is work made imperative by children and teens themselves—who deserve the best that all of us can give them.