by Kathleen T. Horning
It's something we've been wondering about here at the CCBC for the past year or so, ever since we noted that our statistics reveal that fewer Asian American book creators write and illustrate books about Asian characters than they do about white (or animal) characters.  With such a dearth of books with Asian main characters, why don't more Asian authors and illustrators create them?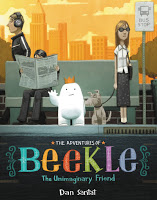 In a year when we celebrated so much diversity in the ALA Award choices, it doesn't escape our attention that the three Asian-American authors and illustrators who were honored this year won for books that didn't feature any Asian characters. This year's Caldecott Medal winner by the prolific Thai American artist, Dan Santat, is a case in point.  Beekle is about a raceless imaginary friend and, although the people he meets in the real world are diverse, the girl who eventually adopts him appears to be white.
Jillian Tamaki won a Caldecott Honor for This One Summer, a realistic graphic novel that perfectly captures a summer friendship between two girls during the time when one is beginning to outgrow the other. Both the illustrator and the author are Japanese American, but the book, as far as I can tell, features an all-white cast.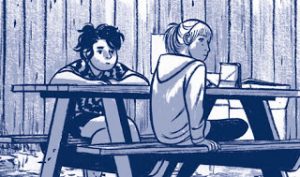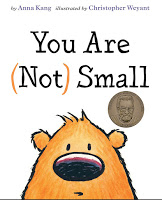 And author Anna Kang won the Geisel Award this year for You Are (Not) Small, a book with bear characters standing in for humans. In spite of the fact that the book has no human, let alone Asian, characters, the author talked about how the book was influenced by her own Korean-American heritage in her eloquent acceptance speech last month.  So who's to say if a book by an Asian-American author is Asian or not?
With all that in mind, we were pleased to see this eye-opening blog post by Zetta Elliott in which she asks several prominent Asian American writers to discuss this issue. Their responses give us a lot of food for thought.