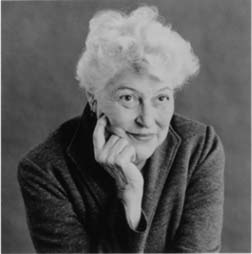 Charlotte Zolotow was born in Norfolk, Virginia, in 1915. She attended the University of Wisconsin in Madison from 1933 to 1936, where she studied writing with Professor Helen C. White in the English Department. When asked recently about her experience as a student on this campus, Ms. Zolotow remarked that at the University of Wisconsin she was taught how to think, not what to think.
She then moved to New York City and began working at Harper Junior Books, as secretary to children's book editor Ursula Nordstrom. Ms. Zolotow soon proved herself to be a gifted editor in her own right, working with authors such as Nathaniel Benchley, Francesca Lia Block, Louise Fitzhugh, Paul Fleischman, M.B. Goffstein, Ruth Gordon, Mollie Hunter, M. E. Kerr, Karla Kuskin, Robert Lipsyte, Patricia MacLachlan, Barbara Robinson, Hazel Rochman, Mary Rodgers, Laurence Yep, and Paul Zindel, among many others. In 1981, Harper & Row honored her with her own imprint, designated with a distinctive tulip design by Harriett Barton.
In addition to her role as editor, Ms. Zolotow has written more than 65 picture books, including The Park Book (1944), Mr. Rabbit and the Lovely Present (1962), William's Doll (1972), Something Is Going to Happen (1988), and Who Is Ben? (1997). Her picture books are known for their honest and comforting depictions of the emotions of young children. Speaking of the qualities of a good picture book, she has said that it ". . . should extend a child's understanding of the world and it must be done from the point of view of the child. It should first of all be a well-written piece of literature, and it should help children understand the world better, their own inner conflicts, their own family, the things closest to them, problems they sometimes think belong only to them."
In 1998, the annual Charlotte Zolotow Lecture and Award for outstanding writing in a picture book was established by the Cooperative Children's Book Center, a library of the School of Education at the University of Wisconsin-Madison, to honor Ms. Zolotow's talent in writing for young children and her lifelong commitment to excellence in literature for children and young adults.
Official Charlotte Zolotow web site
Video by CCBC librarian Megan Schliesman about Charlotte's picture books.