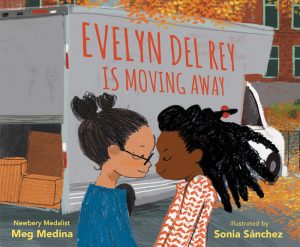 Evelyn Del Rey Is Moving Away, written by Meg Medina and illustrated by Sonia Sánchez, is the winner of the 2021-2022 Charlotte Zolotow Award for outstanding writing in a picture book. The award is given by the Cooperative Children's Book Center (CCBC), a library of the School of Education at the University of Wisconsin-Madison. Evelyn Del Rey Is Moving Away was edited by Kate Fletcher and published in the United States in 2020 by Candlewick Press.
Vivid emotions and childlike details shine in an account of the day Evelyn Del Rey moves away from the apartment across the street from Daniela's. It's a day like any other as the two friends engage in upbeat imaginative play, but a day unlike any other as Evelyn's apartment is emptied and the moving van loaded. The sadness as Evelyn and her parents drive away is as palpable as the girls' earlier delight as they played. But a final page assures an enduring friendship. The finely crafted text uses metaphor to marvelous effect to convey the expansiveness of the girls' imaginations and their feelings about this monumental change.
The 2021-2022 Charlotte Zolotow Award Committe also named five honor books, and 10 highly commended titles. Read the full press release for the complete list.