Boo to You!
---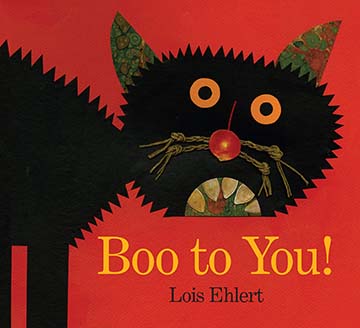 Lois Ehlert used some of her favorite fall objects, from locust pods and ornamental gourds to various squashes, nuts, and fruits, as the basis for the art she created to tell the story of a group of mice planning a harvest party--no cats allowed! It's one meat-eating cat in particular that the mice have their eye on, and when it does indeed come creeping in to disrupt the nighttime festivities, the mice are ready with a very scary pumpkin--Boo to you! "Scat, scary cat. Have some broccoli!" Ehlert's story is a visual feast sure to inspire young artists, who can also take cues from her "Pumpkin Talk" note inviting children to create their own jack-o-lantern. ©2009 Cooperative Children's Book Center
Illustrated by Lois Ehlert
Wisconsin author, Wisconsin illustrator
Lois Ehlert was born and raised in Beaver Dam, Wisconsin. She graduated from Layton School of Art in Milwaukee (1957) and from UW-Milwaukee (1959). She lived in Milwaukee until her death in 2021.
CCBC Age Recommendation: Ages 3-7
Age Range: Babies/Toddlers (birth – 3) PreK-Early Elementary (Ages 4-7)
Format: Picture book
Subjects: Animals (Fiction) Celebrations, Holidays, and Observances Seasons

Publisher: Beach Lane
Publish Year: 2009
Pages: 32
ISBN: 9781416986256

CCBC Location: Picture Book, Ehlert