When Will Sarah Come?
---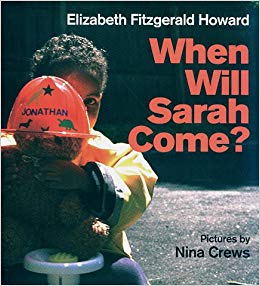 Crisp color photographs show a preschool-age African-American boy waiting for someone named Sarah to arrive. Jonathan can be momentarily distracted by tree trimmers outside, the arrival of the morning mail, and a passing garbage truck, but Sarah is never far from his mind. Elizabeth Fitzgerald Howard's perfectly paced first-person text expresses Jonathan's anticipation through childlike questions and repetition. Onomatopoeia adds to the ambiance of the story, as well as to the pleasure of young listeners. The satisfying wordless conclusion shows Sarah to be Jonathan's big sister coming home on a school bus from her kindergarten class, ready for an afternoon of fun with her little brother. Highly Commended, 2000 Charlotte Zolotow Award ©1999 Cooperative Children's Book Center
Illustrated by Nina Crews
Wisconsin author
Elizabeth Fitzgerald Howard was born in Baltimore, and raised in Boston. She lived in Milwaukee for a time as an adult. She currently lives in Pittsburgh.
CCBC Age Recommendation: Ages 2-5
Age Range: Babies/Toddlers (birth – 3) PreK-Early Elementary (Ages 4-7)
Format: Picture book
Subjects: African Americans Anticipation Separation Siblings
Diversity subject: Black/African
Publisher: Greenwillow
Publish Year: 1999
Pages: 24
ISBN: 0688161804

CCBC Location: Picture Book, Howard