The Rooster Who Would Not Be Quiet! = ¡El gallo que no se callaba!
---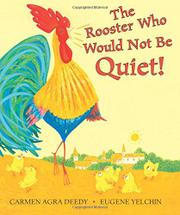 The village of La Paz is noisy. "Dogs bayed, mothers crooned, engines hummed, fountains warbled, and everybody sang in the shower." In fact it's so noisy the mayor is fired and an election is held to choose a new one. "Only Don Pepe promised peace and quiet. He won by a landslide." First Don Pepe bans loud singing, then he bans singing altogether. Seven quiet years pass until a "saucy gallito" moves into town and does what roosters do: "Kee-kee-ree KEE!" Furious, Don Pepe cuts down the tree where the rooster sits. When that doesn't silence the rooster, Don Pepe throws him in a cage alone, then takes away his corn, and blankets him in darkness. Still the rooster crows. "I sing for those who dare not sing—or have forgotten how," he tells Don Pepe. Even under threat of being turned into soup, the rooster is defiant, stating a song "will never die—so long as there is someone to sing it." And the townspeople, their memories stirred, pick up his call. A delightfully told story is an entertaining and accessible allegory about the importance of speaking up, and sometimes resisting authority. Colorful mixed media illustrations with a comic edge provide a vibrant backdrop for the language- and idea-rich story, here in a bilingual edition. ©2017 Cooperative Children's Book Center
Illustrated by Eugene Yelchin
CCBC Age Recommendation: Ages 6-10
Age Range: PreK-Early Elementary (Ages 4-7) Grades 3-5 (Ages 8-10)
Format: Picture book
Subjects: Activism and Resistance Bilingual Books Free Speech Oppression Politics and Political Systems Spanish Language
Diversity subject: Latine
Publisher: Scholastic
Publish Year: 2017
Pages: 48
ISBN: 9781338114140

CCBC Location: Picture Book, Deedy
The Rooster Who Would Not Be Quiet! = ¡El gallo que no se callaba!