by Kathleen T. Horning
Since 1985, the CCBC has been keeping statistics on the number of children's books by and about African Americans. For the first two years, the numbers were dismal (just 18 books out of 2,500 published in 1985 and again in 1986).  USA Today did a story about it that included one of their handy visuals to illustrate the problem.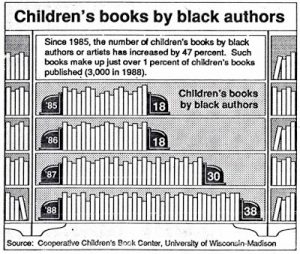 For the next few years we began to see an increase that was enough to make us hopeful. But that didn't last. By the mid-1990s the numbers began to plateau and they have stagnated ever since.
But a couple of years ago we began to notice a dramatic increase in the number of books about African-Americans — it nearly doubled from 2013 to 2014 (from 93 to 180), and then jumped to 265 in 2015. In 2016 we saw a small bump to 278.
We're not sure what caused this. Was it the Obama effect? (If an African American can be President, why not a book character?) Was it the call for more Black books in the New York Times editorials by Walter Dean Myers and Christopher Myers early in 2014? Was it the impact of the #WeNeedDiverseBooks movement? A combination of all three?
Regardless of the cause, many saw this as a reason for celebration. But the increase in the number of books about African Americans doesn't tell the whole story. It needs to be looked at next to the number of these same books that are actually by African Americans. This graph helps to illuminate what is happening:
We can see that there are a whole lot of books being written about African Americans these days by people who are not African American. Does it matter? It certainly can. Especially when you care about authenticity.
And, more significantly, this means we are not seeing African-American authors and artists being given the same opportunities to tell their own stories. In fact, last year just 71 of the 278 (25.5%) books about African-Americans were actually written and/or illustrated by African Americans.  The graph above shows this gap quite dramatically.
There are a few hopeful signs this year already.  An African-American artist won the 2017 Caldecott Medal for a picture book that's actually about an African-American child. This marks the first time — ever — that the Caldecott Medal has been awarded for a picture book that is both by and about an African-American (as opposed to animal tales or an informational book about Africa).
We don't just need more African American authors and artists being signed and nurtured by publishers, we also need white authors and artists to take a step back to make room for people to tell their own stories. Let's hope that by 2020 this graph tells a different story.