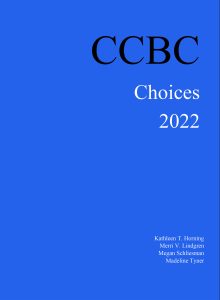 …and Other Thoughts

by Kathleen T. Horning, Merri V. Lindgren, Megan Schliesman, and Madeline Tyner
© 2022 Cooperative Children's Book Center
(This essay originally appeared in CCBC Choices 2022.)
A year ago when we were beginning our reading for CCBC Choices 2022, we assumed that life would return to normal before the year was over. And it's true that we were able to come back to working in person at the CCBC, and that we once again opened our doors to the public in September 2021. But some things didn't change—we still haven't been able to get back out on the road regularly for our outreach visits around the state, one of the key ways we distribute the Choices booklets. So once again, we've opted for a digital-only version of CCBC Choices.
It also continues to prove difficult for us to get as many review copies from the publishers as we had pre-pandemic, something we depend on for our own Choices reading and to make available for book examination for Wisconsin librarians selecting books to purchase for their libraries. We did receive over 2,500 books at the CCBC, and we thank publishers willing and able to send physical review copies, which are essential for hands-on book examination. Additionally, CCBC librarian Madeline Tyner has been serving on the ALA Notable Children's Books Committee; the review copies Madeline received also helped us stay on top of much of what was coming out in 2021. Among the thousands of books published in 2021, we are recommending 273 in this edition of CCBC Choices.
Our observations about the current landscape of literature for children and teens demonstrate that we are living in a changing, often fraught, world; and that we see young people as a vital part of that world and books as an essential means to help them find understanding, explanation, and affirmation.
There were books in 2021 that explored living in a pandemic. Some portray this reality directly, such as Joseph Bruchac's short novel in verse, Rez Dogs, about a young Penacook girl staying with her grandparents on the reservation during COVID, apart from her parents who work in the city. Remote learning, spotty internet connectivity, and staying a safe distance from strangers are just a part of her everyday reality. Keeping the City Going by Brian Floca offers an expansive visual tribute to essential workers during the pandemic—those delivering food and other products; bus drivers, firefighters, police, and postal workers; and people who work in hospitals.
Other books, like Dan Yaccarino's picture book The Longest Storm, examine the pandemic through metaphor. Yaccarino's book features a family stuck indoors for a long period of time, frequently getting on each other's nerves but ultimately finding strength in their family ties. The multidimensional offering lends itself to more than one interpretation: It can be read as a story about the pandemic, a portrait of a grieving family, or simply as a story about waiting out a storm.
The Longest Storm underscores how big things can impact the way we feel. Other books explored how small but intentional actions can make a difference, as with Baptiste and Miranda Paul's Peace ("Peace is pronouncing your friend's name correctly …"). A grandmother suggests to a child that they look for Ten Beautiful Things during a day-long car ride to the grandmother's home. They manage to find that beauty in the ordinary things one sees in the rural Midwest: spinning windmill blades, a redwing blackbird, an old barn, etc. These moments of beauty provide comfort at a time of great change; as the story makes clear, the child is going to live with the grandmother, although the reason why is never stated. In The Museum of Everything, Lynne Rae Perkins inspires children to expand the boundaries of their imaginations by creating unusual museums of small and often unconsidered things—shadows, hiding places, little things—asking childlike existential questions: "Is a place between streetlights a place without shadows or a place with 100 percent shadows?"
Borders were another common theme in 2021. Raúl the Third's latest offering in his Little Lobo series shows the usual cast of characters stuck in traffic on the bridge between Mexico and the United States in ¡Vamos! Let's Cross the Bridge. His playful picture story accentuates the similarities between the towns on either side of the border, as does David Bowles' My Two Border Towns, in which a father and son make one of their weekly trips across the border to see relatives in Mexico and to purchase a few things. On the way back, they stop to visit a family stuck on the bridge, awaiting entry into the United States. The haunting words of real children who have been separated from their families and detained at a border patrol station in Clint, Texas, are documented in Hear My Voice / Escucha mi voz, compiled by children's rights advocate Warren Binford. The ever-amazing Yuyi Morales uses visual symbolism in Bright Star to capture the pain of children trapped at the border by portraying them as the fauna native to the area. The faces of the children revealed at the book's end show all the hope and potential each one holds, every one a bright star. And in Thomas King's Borders, an ironic and infuriating impact of colonialism on Indigenous North Americans is illuminated: A boy and his mother spend several days unable to cross the border between Canada and the United States because his mom repeatedly answers the question of citizenship by calmly declaring they are citizens of the Blackfoot Nation, whose traditional homelands have been divided by the geopolitical border.
Books that offer an unflinching look at America's past also stood out in 2021, including two excellent books about the 1921 Tulsa Race Massacre, Blackbirds in the Sky by Brandy Colbert and Unspeakable by Carole Boston Weatherford and Floyd Cooper. Neither book shies away from reality, as the authors clearly trust in the intelligence and compassion of young readers. Susan H. Kamei's hefty tome, When Can We Go Back to America?, offers the most comprehensive history of the incarceration of Japanese Americans during World War II ever published for teen readers. Her compilation of first-person accounts of young survivors paints an unforgettable portrait of a massive betrayal and injustice. In From a Whisper to a Rallying Cry, Paula Yoo brilliantly recounts the story of Vincent Chin, whose 1982 murder by two racists spurred an Asian American rights movement. Kekla Magoon provides an excellent history of the Black Panther Party with her well-researched book Revolution in Our Time. And then there's the history we think we know being reexamined in Jeff Lantos's Why Longfellow Lied, which dissects his famous poem about Paul Revere's ride, stanza by stanza, and tells us what he got right and what he got wrong—and, intriguingly, why.
Even as we recognize the importance of books offering an honest look at our nation's history, we also know that it's essential to have books that showcase the everyday and the extraordinary in contemporary children's and teens' lives, reflecting specifics of identity and experience as well as feelings that are often universal. Books like The Cot in the Living Room, Jo Jo Makoons: The Used-to-Be Best Friend, Kai and the Electric Slide, My Day with the Panye, My First Day, 100 Things I Know How to Do, Rosa Loves Cars / A Rosa le encantan los carros, 365 Days to Alaska, Too Bright to See, We All Play / Kimêtawânaw, When Lola Visits, and others cannot be overvalued.
It was also a great year for genre fiction, including ghost stories (Ophie's Ghosts, Pony, Temple Alley Summer) and romantic comedies (Hani and Ishu's Guide to Fake Dating, Not Here to Be Liked, She Drives Me Crazy). Angeline Boulley's debut, Firekeeper's Daughter, is a thriller that won both the Printz and Morris awards.
And speaking of awards, this year marks the 100th anniversary of the Newbery Medal. The book that won, The Last Cuentista, imagines a future world in which memories of the past are wiped clean in an attempt to rid civilization of conflict, racism, and injustice. It poses a fascinating central question: if there were no remembered past, what would our present look like? Can we live without the stories we tell ourselves and others? The book eerily echoes our current political climate.
Stories create connections. Share the joy of books and reading with children, and you help them discover that the space between the covers belongs to them but also extends beyond them. During this tumultuous time in which books are being challenged and access is being limited at an unprecedented rate, it's more important than ever that books telling a wide range of stories and reflecting diverse identities and experiences are available for children and teens. The foundations of literacy and education start early, but with books like these we affirm the value of every child while also building the foundations for empathy and compassion.